A beginner's guide to K-Pop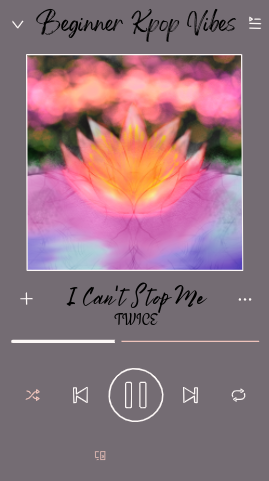 I got into K-pop in 2019 and the very first song I ever heard was "Boy With Luv" by BTS. That song was everywhere; you know a K-Pop song is big when it comes to Hawaii radio stations. When I first watched the music video to "Boy With Luv," I loved the bright and pastel colors of their aesthetic. K-Pop is such a huge genre due to its catchiness and its wide array of sounds and sub-genres, and of course people are obsessed with the artists' visuals and fun dances.
Large groups like BTS and TWICE are taking U.S. charts by storm, but have you ever heard of smaller groups like THE BOYZ or IZ*ONE, or classic groups like SHINee or Super Junior? K-Pop has now managed to reach a worldwide audience and is extremely popular. 
A classic song that I love listening to is "I Can't Stop Me" by TWICE. If you want to get into modern K-Pop, "I Can't Stop Me" is a great place to start. The song is about when you can't help rushing yourself towards something. Lyrics include, "I'm surrounded by that spot, spot, spotlight, as it shines on me, I'm swept into the darkness, I see the end, I know it's not right." TWICE is a nine-member girl group that was formed on a survival show called "Sixteen" and debuted in 2015. 
Another classic is "Boy With Luv" by BTS featuring Halsey. You've probably heard this song before on the radio, but if you haven't, you definitely should listen to it. "Boy With Luv" is all about finding joy in the smaller, less noticeable things in life. BTS is a seven-member boy group formed in 2013 that has set world records, like garnering 101.1 million YouTube views within 24 hours with their song "Dynamite." 
If you're more into rap and deeper songs, try listening to "MAVERICK" or "The Stealer" by THE BOYZ. These songs feature rapping and powerful choruses. They are perfect for workouts or raising your energy level. "MAVERICK" is about being a person who refuses to follow traditional rules. "The Stealer" is about the desire to capture someone's heart. THE BOYZ is a 11-member boy group that debuted in 2017. 
If you're into rock, try listening to "0X1=LOVESONG (I Know I Love You)" by TOMORROW X TOGETHER featuring Seori. The song has a very captivating chorus and is about about a boy who fell in love. Lyrics from the song include "I'm full of problems, love sick, no way to go, I was fine to die, I'm a loser in this game." TOMORROW X TOGETHER is a five-member group that debuted in 2019. 
Now let me introduce you to songs from IZ*ONE, a group that sadly disbanded in April 2021. "Secret Story of the Swan" and "Panorama" are my favorite songs by IZ*ONE. "Secret Story of the Swan" is a loud and chaotic song that is about becoming the person you've always dreamed of. Lyrics include, "Until all the day, all the moments I imagined, Come right in front of my eyes."
"Panorama" was the final song IZ*ONE created before they disbanded. It's all about the memories they made together. Lyrics include, "Shoot, take a panorama, like a star shining brightly in the deep darkness, we will recognize each other anywhere." IZ*ONE is a 12-member girl group that was formed on a survival show called "Produce 48" and debuted in 2018. 
If you are still hesitant to get into K-Pop, don't be afraid to venture out. Expanding your musical horizons lets you understand where K-Pop fans come from. Even if you can't understand the songs' meanings, you can search for translations or just focus on the background music. With K-Pop's wide array of sounds and aesthetics, there is something for everyone. All of these songs can be found in a playlist on Apple Music and Spotify.