Student artists share experiences doing art comissions
@Kaabii_Konde (she/her) is a student in the Academy of Arts and Communication.
Art has always been a passion for Kaabii_Konde and requests for commissions motivated her to start making money while doing something she likes. She describes her style as, "cute but creepy, a combination of a shoujo manga with grotesque elements. I like to keep a cartoony style with subtle touches of realism." She is the most comfortable drawing humans, original characters, mild gore, and fan art, and dislikes inappropriate themes. She offers digital headshot, waist-up, and full body illustration commissions, with flexibility and communication for specific details on what the client wants.
Kaabii_Konde enjoys the effect her art has, commenting, "I enjoy drawing for others and hopefully making their mood better with my art! I just think that it's fun for others to share their creative ideas with me!" In the future she would love to continue doing commissions and create a manga series or even a video game. 
You can find her at @Kaabii_Konde on Instagram and Twitter, and she accepts payment through PayPal. 
Shayna May Udani (they/them) is a Junior in the Academy of Professional and Public Services.
Motivated by another friend taking commissions, Udani hoped to do the same at their own pace. They specialize in digital, traditional, and animation commissions with sharp, detailed line art. They focus on one to two projects at a time with a waitlist ready for new commissions. Working on a few projects, they prioritize communication and knowing that clients are happy with their art at each stage. Udani has enjoyed seeing what people are interested in having in their artstyle, finding the commissions themselves flattering since it means that people like their art.
For those interested in giving commissions, they advise, "Be patient with the people you commission, trust their process, trust their skill."
You can find Shayna at @mayllium on Instagram, and they accept cash payments.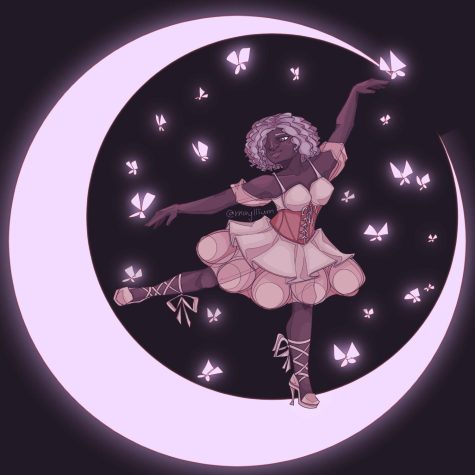 Jheanna Mae Carlos (she/her) is a Junior in the Academy of Arts and Communication. 
Carlos has been known by her friends for her drawings and paintings, and started taking commissions from them when she got more serious about the hobby in middle school. Her artstyle took a while to figure out and the mix of fantasy and realism in her art is inspired by the media she grew up watching. Carlos says, "Art style is just your style, it's not necessarily something that you need, but something that you have and you work on. As your interests change, your style will change with you."
Carlos is open to a variety of commissions ranging from digital, traditional, watercolor, acrylic, graphite, colored pencil, glass painting, and other mediums. She says that if a client's request is possible she will try her best to complete the commission. 
She appreciates that many of her clients know her and are understanding if it takes time to complete and of the price she charges, which are something they can always work on together. She is happy to be able to share her art and passion with others since it's nice to know somebody saw her work and wanted their own personal version of it that she can create.
You can find Carlos at @saijhe_ on Instagram, and she accepts cash payments.