Computer access program becomes Safe Haven for Waipahu immigrants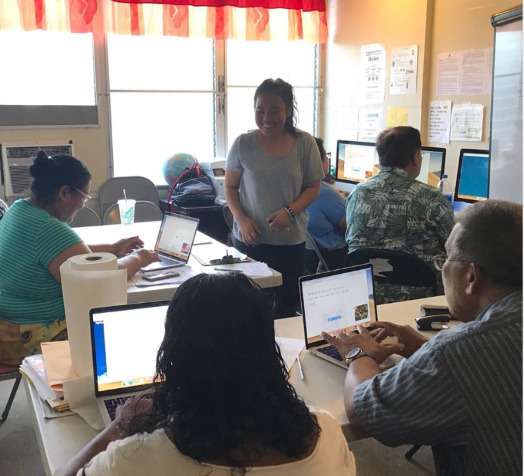 While Waipahu Safe Haven got its start as a computer access program, the resource center on Pupupuhi Street now provides much more for immigrants within the community.
Barbara Tom, the coordinator of Waipahu Safe Haven, did not initially envision its success and impact.
Having worked in the Waipahu Community for years, Tom knew that she wanted to start an organization like Safe Haven to help others.
"I started working as a helper in the public health industry in Waipahu and saw that the community needed help, especially those not from here, those with language barriers," Tom said.
Waipahu Safe Haven has expanded from providing computer access classes, and now offers services and classes in sewing, adult education, after school tutoring, and job training.  A majority of the immigrants who take part in these programs are of Micronesian descent, which led Waipahu Safe Haven to a partnership with Waipahu High School (WHS).
In January, Waipahu Safe Haven teamed up with Waipahu High School's Micronesian student organization, We Are Micronesia, to hold an event held in the school library.  Waipahu Safe Haven workers and volunteers taught the Micronesian club students how to weave traditional Marshallese baskets. The baskets were then used in an art showcase at the University of Hawaii at Manoa that featured Kathy Jetnil-Kijiner and Joy Lehuananai Enomoto.
"It was an opportunity for the students to learn and be more involved with their culture.  We are thankful for Waipahu Safe Haven for sharing their knowledge and time and hope to be able to help them further their business," said Mr. Jeremiah Brown, Waipahu High School's English Language Learner coordinator who advises We Are Micronesia.
Students in Waipahu High School's education pathway have also begun to tutor elementary school students and teach adults how to use computers at Waipahu Safe Haven.  Waipahu Safe Haven is hoping to maintain these links to the high school and eventually expand to other communities in need.
There are many ways for people of all ages to get involved at Waipahu Safe Haven.  While Waipahu Safe Haven and campuses are currently closed due to COVID-19, volunteers are typically needed to help elementary school students with homework and tutoring from 2-4:30 Mondays through Thursdays.  Volunteers may also assist with computer literacy classes for adults. Prospective volunteers may contact coordinator Barbara Tom at (808) 392-5946, [email protected], or visit their website, at waipahusafehaven.com.