Waipahu students win pageants
This year, a few of our own Waipahu high school students competed for various pageant titles. These titles come with many opportunities to make a difference in the community. 
Marielle Magdirila, a Waipahu High School junior, won the title of Miss Teen Philippines Hawaii 2023, but recently gave up her crown to her first runner-up. She now holds the title of Miss Waipahu's Teen. She will later represent Waipahu in the Miss Hawaii Outstanding Teen pageant.
Magdirila spoke about her pageant experience and the challenges she faced.
"Believing in myself was a challenge that took months to overcome. To be confident on that stage, I needed to stop doubting [myself]." She adds that acceptance and positive words helped her to show her truest and most beautiful self on stage.
With her title, Magdirila hopes to use her social initiative "Compassion to Action" to make an impact in her community. So far, she has taken measures to improve her community such as holding school supply drives. She has even branched out to international community service work by gathering supplies for a school in the Philippines.
When asked about her advice for pageant hopefuls, Magdirila says, "Pageantry builds your confidence, levels up your public speaking, allows you to network, provides a wide platform, and surrounds you with empowering people. If you are interested in the slightest bit, go for it!"
To keep up with Magdirila's pageant journey, follow her pageant account @misswaipahusteen on Instagram.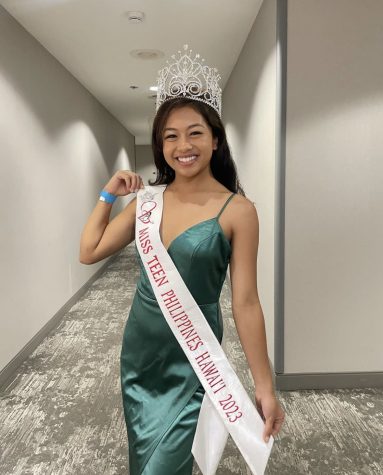 Another Waipahu High school student, Senior Mariah Ramo, won the title of Miss Teen Asia Hawaii 2023. 
Participating in her very first pageant, Ramo's greatest challenge was self-confidence. To help her push past this discouragement, she said, "I have been blessed with an amazing family who reminded me that I am the driver of my life." She explains that her family helped her muster the courage to continue the pageant "with utmost dedication and effort."
One of Ramo's highlights of competing in the pageant was getting to meet and connect with the other participants. She explains how her fellow competitors inspired her with the work they do within their communities. She says that her fellow competitors are the people she wants "to be surrounded with for the rest of my life because empowered women empower women."
With her title, Ramo wishes to "fight for women's rights and education and food equity within my communities.
For women's rights, she wants to focus on "ending period poverty and stigma." Ramo says, "Menstruators deserve to have access to the products at little to no cost and deserve to not feel embarrassed about their situation. We should all ask and or take out the pads from our bags loud and proud."
For Ramo's education efforts, she says she wants "to ensure everyone is properly represented in a classroom setting." Continuing her volunteer work in education, she will make efforts to continue teaching cultural lessons to her students as well as on social media platforms.
Ramo's last focus is on food equity, and she hopes to visit and volunteer on farms to understand where our food comes from, and later "organize food drives to nourish everyone's souls." 
After her first pageant experience, Ramo encourages people to "not be afraid to take that first step" in pursuing their interests, and to "be open to the opportunities that come to you."
To follow Ramo's pageant journey, follow her pageant account @missmariahiris.