WHS students succeed in Congressional App Challenge
The Congressional App Challenge was created by Congress to encourage students to create apps for their classmates, communities, or people around the world. 
On December 15, 2020, Congressman Ed Case announced the winners of the App Challenge for Hawaii's First Congressional District. Out of 33 participants and 13 submitted apps in the district of Hawaii, Waipahu High School seniors Harvey Lloyd Picar, Reyan Lee, Destiny Shishido, and Kristine Orpilla placed second with their app called ClubHub, while Xhavier Teocson, Kalani Ashton Agustin, Jett Marco Palacpac, and Aaron Moises Paned placed third with their app called studentjobapp. 
ClubHub aims to help students find clubs to join at Waipahu High School, and helps club officers recruit new members. The app lists available clubs and extracurriculars, and displays the clubs that the user is already involved in. For each club, the app provides a short description, its purpose and mission statement, ways to contact the club, and any requirements for membership. 
Using Vue as their programming language to design the app for web browsers, the creators of ClubHub started planning. First, they created a blueprint for their app. Then they created the app's layout, including functions to allow users to navigate the site easily and efficiently. Finally, each member was assigned a specific part of the app to code. 
Studentjobapp aims to help students at any school discover part-time job listings. The app allows users to learn more about job positions by displaying a short description of each job along with its hourly pay and location. Studentjobapp also gives users the option to submit resumes online to apply.
To create the app, members used Visual Studio as their programming language.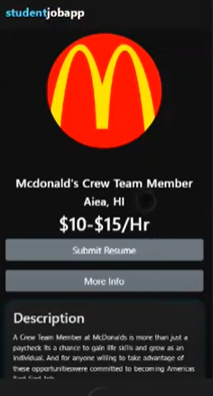 Students who decided to participate in the Congressional App Challenge had five months to register, create, and submit their apps. Apps could relate to any theme or topic, and the creators could use any programming language and allow the app to be used on any platform.
The challenge began on June 1, 2020, and the window for submissions closed on October 19, 2020. District judges used the month of November to review submissions and decide on a winner. The apps were evaluated on the creators' creativity and originality, execution and design, and coding and programming skills. December was used to announce district winners across the country. 
When the winners were announced, Kristine Orpilla said, "I was very happy to hear that two teams from our school placed second and third! I was honestly surprised that we placed since there were many great apps that entered." 
Through the Congressional App Challenge, Orpilla and her teammates learned how to overcome the challenges of coding during distance learning. Orpilla said, "In the past coding competitions we have competed in, we were able to code with each other in person. I feel like it was easier to communicate our ideas and get help. It was a great learning experience for me to learn how to adapt to a new environment."