Telescope installed on campus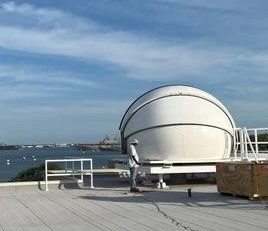 The new telescope on top of Waipahu High School's C-building will soon support aspiring astronomers.
The idea to add a telescope to our campus came from Dr. Kakkala Mohanan, who teaches astronomy through our Early College program. Mohanan's daughter is Shanti Mohanan, a 2020 Waipahu alumna who is now an AmeriCorps Early College Transition Coordinator on campus.
Students from all academies will be able to access the telescope through Academy of Industrial and Engineering Technology teacher Tessie Ford's Seminar in Scientific Research class.
The telescope is controlled remotely, meaning students will be able to use it from their classrooms or from home.
Using the telescope will give students hands-on experience, just as "actual astronomers use remotely controlled observatories," Ford says. Students will be able to "take actual data of the night sky" for their research.
Ford's students also use smaller, portable Celestron Telescopes.