Album review: Halsey's "Manic"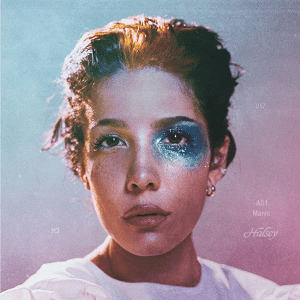 With the success of her sophomore album, "Hopeless Fountain Kingdom," Halsey left fans wanting something more, something deeper. Her second album is pop-perfection, with touches of heartache and melodrama.  It was an insanely bold move for the artist, considering how young she was and how she pushed her "teen-angst" persona to the limits. While not being the most cohesive body of work, Hopeless Fountain Kingdom is a staple in Halsey's career.
Fast forward to October 8, 2018. Halsey released her lead single, "Without Me," for her newest album, "Manic." Anticipation arose after the song topped the charts with its electro-R&B production and melodramatic lyrics, making this Halseys' most recognizable and best-received song to date. After Halsey released the album's next single, "Graveyard,"  and this could have been a potential red flag for the upcoming album. The song remained stagnant. However, Halsey's vocals showed range and versatility, and the production included aspects of dance-pop and R&B.
"Manic" has finally been released on streaming platforms after fans have waited almost two years. But after the long wait, is "Manic" really worth listening to? Well, it depends.
"Manic" attempts to take the listener deeper into Halseys' mind, but in a "manic" kind of way. If you thought that Hopeless Fountain Kingdom was not cohesive, this body of work completely throws that thought out the window. Halsey decides to take risks and dives into alternative rock on tracks such as "Alanis' Interlude" and "3am." She also ventures into a bit of country with "You Should Be Sad." While I was skeptical at first, Halsey's vocals complement each music style she ventures into. Halsey perfectly blends her voice into the various production elements throughout the album.
"3am" is a throwback to early 2000's pop-rock, with obvious influences from Avril Lavigne and Maroon 5. Halsey claims that she is her own worst enemy, saying that her "insecurities are hurting her" and mentioning her reflections need to tell her that she looks fine. Her internal battles continue, and she explains that she is blamed for all her failed relationships, recalling one of her songs, "Bad at Love."
Halsey experiments further in another ballad, "Clementine." Very simple piano arpeggios and drums accompany her screaming that she "doesn't need anyone, but everyone." The vocal layering of the melodic line and her screams further explain that Halsey is free, but she still needs the comfort of others.
Halsey also includes three interludes that feature Alanis Morissette, BTS's Suga, and rapper Dominic Fike. Suga, being the lead rapper of BTS, adds Korean verses that dive into the complexity of anxiety.
Fike's interlude is rather a transition into the happy and upbeat portion of the album. Morissette and Halsey then take a twist on John Mayer's "Your Body is a Wonderland," giving listeners yet powerful bisexual rock anthem, similar to her collaboration "Strangers" with Fifth Harmony vocalist Lauren Jauregi.
Through the mixtures of psychosis-enduring ballads, alternative rock, and hip-hop influences, Halsey gives us one last venture into her mind with her most personal track yet to date, "More." Halsey shares about her mental state and how it has affected her in recent years. In a tweet from 2015, Halsey revealed that she has had three miscarriages due to her endometriosis. "More" accentuates Halsey's desire to have a baby. It is rare for an artist to talk about something this personal. Still, Halsey states that there are still "glimmers of hope," into trying again: "I've loved you for all of my life / And nothing could stop me from giving a try."
Halsey's third body of work is pure chaos, hence the title "Manic." In a sense that there is so much happening that the listener does not get a chance to take a breather. However, as chaotic as the album can get, it still maintains structure. Every track is placed intelligently in the album, very reminiscent of telling one's story. While not being as cohesive as her previous bodies of work, Halsey's third studio album still manages to compose her feelings into an innovative work of art.