Stray animals on campus: tips and adoption stories
It's a known fact that the island of Oahu is overflowing with stray animals. As of July 2022, Oahu's feral cat population was said to top more than 300,000.
But what makes an animal a stray? A stray animal is an animal that has been socialized to people and has no identified owner or permanent home, not to be confused with a feral animal. "'Feral' more accurately describes domesticated animals that have escaped domestication," explain The Open Sanctuary Project's Amber Barnes. 
For a long time, there has been a noticeable population of stray animals throughout our neighborhoods, so it's not surprising that they find their way onto campus. 
Waipahu High School teacher Cesceli Nakamura says that finding stray animals on campus is not a rare thing: "sometimes it's weekly, sometimes once every two months." 
Fellow teacher Kisa Matlin says it's hard to determine the frequency as many animals are "probably repeat visitors," but in the past 12 months, Matlin has seen 16 cats or kittens, six dogs, 10 chickens, and two gray francolins (a type of game bird similar to a pheasant).
What should students do when finding stray animals? 
The steps to take when finding a stray depend on the animal and situation. For stray dogs and cats, typically a faculty or staff member calls the Hawaiian Humane Society to pick up the animal, or someone may drop it off at the Oahu SPCA.  If the animal has a microchip, the owner will be contacted to pick up the animal.
Nakamura says, "It's a different story for wild birds. Not many places will accept a wild bird who is sick or injured. In the past, I have contacted a person who personally rescues birds and she gave me advice on how to feed and take care of baby birds. Like a baby, it needs to be kept warm and fed baby bird formula five to six times a day."
She stresses that students should not approach or try to catch strays found on campus, and instead report the animals to a teacher or other adult. Matlin adds, "If an animal is injured or frightened, they may bite, scratch, or otherwise attack, so only approach if you are certain that you can do so safely. 
If you find a kitten, it is best to leave it alone and try to identify how old it is before taking further action. You should never attempt to move or adopt a young kitten unless you are certain it is abandoned and have the time and resources to take care of one. 
According to Alley Cat Allies, "Even if you see kittens alone, it is more than likely their mother is nearby. A mother cat is kittens' best possible caregiver, so [do not] remove kittens younger than ~8 weeks old from their mother." They go on to say, "Most shelters do not have programs to provide the care unweaned kittens need to survive and thrive."
As for adult cats, Matlin says, "Adult cats with clipped ears are likely TNR (trap-neuter-release) cats and should be left alone. These cats have been sterilized and will not reproduce."
Caring for and adopting stray animals
Nakamura has experience in rehabilitating baby birds that find themselves outside of their nests, which poses unique challenges. "The survival rate is low; many of them do not make it past two days," she says. Baby birds must be fed with a dropper or similar tool. Nakamura recommends feeding baby birds Kaytee Exact baby bird formula, which can be purchased at pet stores. However, "Once you begin feeding [baby birds], they are not able to survive in the wild. If the baby bird can survive beyond five days, there's a good chance it will live. The process of weaning it off the baby bird formula and eating on its own takes time, and what you feed it depends on what type of bird it is." Nakamura also cautions that birds have mites, and recommends bathing rescued birds to be sure that there are no bugs on their skin or feathers.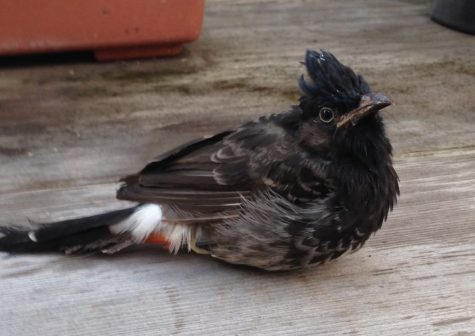 Matlin has her own experience adopting a kitten from campus last year. During her Natural Resources Production class, Matlin and her students heard meows coming from five kittens outside. The kittens were very skinny, and their mother had likely died or abandoned them. Matlin went through the Humane Society's Opt-to-Adopt program with one of the kittens. "In this program, kittens are held for a waiting period and are evaluated for physical and behavioral health. They are cleaned up, spayed/neutered, and treated for any illnesses and when they are healthy and adapted to human presence, they are ready for adoption," Matlin explains. "When I dropped off the kittens, I let the Humane Society staff know that I was interested in giving one of the kittens a home and they kept my contact information. When the kittens were ready for adoption, I was given 24 hours to decide whether or not I was ready to take one home and make an appointment to pick her up. I paid the adoption fee of $100, which covered the cost of the spaying operation, the treatments for her abrasions and eye infection, and administrative fees for the Humane Society. It also covered the cost of her first round of feline vaccinations and initial veterinary visit."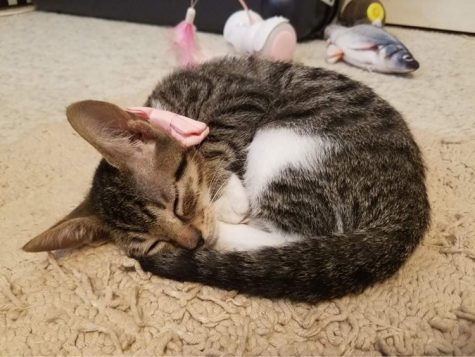 Fellow Academy of Natural Resources teacher Katheryne Huihui also adopted a kitten from campus in 2017. "A teacher friend's students brought the kitten to her in a box with a towel. They were feeding him bits of their lunch bread. He was so friendly despite being a young stray kitten. He had bright blue eyes and the pinkest nose you've ever seen. He is a black and white tuxedo cat. At the time I brought him home, my sister [who is a vet tech] was unsure if the kitten was a male or female. She couldn't tell because he was too little. I had the intention of adopting him from the moment I saw him. His name is Gem and he's now five. He's one of the best cats I've ever had," Huihui says.
My personal experiences with strays have been mainly outside of school, and I adopted two of my cats as strays. My advice to anyone who wants to adopt a stray kitten or cat is to be cautious and patient, and do your research when it comes to veterinary services, as some can be very expensive. I recommend Hawaii SPCA Petco clinics. The best price that I know of for neutering and spaying is the Hawaiian Humane Society, or Aloha Affordable Veterinary Services may have services available sooner. Their kitten clinics take place by appointment on Mondays. Also, note that most vets are not open 24 hours or for walk-ins. 
As Matlin says, "By encouraging spaying/neutering of pets and strays and where possible, giving animals a loving home (away from delicate wildlife!), we can all make the ecosystem around our school a safer place."