2020 alum completes Hawaii Carpenters Apprenticeship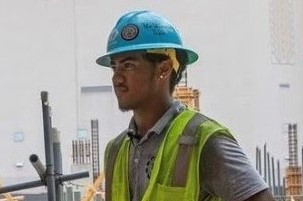 Throughout the years, Waipahu High School (WHS) has provided many opportunities for students to gain work experience or fulfill course requirements through internships. Genesis Nakagawa, a 2020 Waipahu High School graduate, finished his summer internship through Waipahu High School's partnership with the Hawaii Carpenters Apprenticeship & Training Fund.  
Ms. Gail Hirata, the Career Center Director,  says that applying for an internship can vary depending on the company or business that is offering the internship. Students who take internships may do so to complete a course requirement. For example, internships may be required of a student's portfolio or capstone or honors class project. Companies could also ask teachers to nominate a student for an internship.
Nakagawa's Building and Construction Technology teacher asked if he was interested in completing the Hawaii Carpenters Internship. 
Nakagawa says that he wanted to gain carpentry experience to work toward his future goal of building his own house. In order for him to accomplish his goal, he needed to learn how to "build and do things the right way."
Learning the right way includes asking questions and not being afraid to do so. Nakagawa says that high school prepared him by strengthening his knowledge of math and understanding of measurements, and encouraging his inquisitiveness to ask questions when he doesn't understand material or instructions given to him. 
He advises interns and other new employees to listen to their coworkers and supervisors because they are there to help and teach newcomers in order to become successful. He also recommends arriving at the job site with a positive attitude, paying close attention to instructions, and avoiding overconfidence. "Don't be that guy seeing someone carry lots of 2 by 4 wood and you try to carry more, then you fall."