Rayden Quiocho ('14) gives back to his community and beyond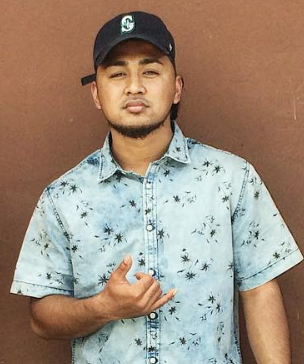 2014 Waipahu High School alumnus Rayden Quiocho didn't experience an ideal life growing up, but his challenges have motivated him to give back to his community.
Early in his life, Quiocho experienced events that triggered his anger.  At the age of five, he witnessed his parents getting arrested. He later witnessed his cousin being killed. He would find drugs in his house.
Quiocho said, "Seeing the consequences of that lifestyle really just changed me and made me think, 'Is that going to happen to me too?'"
While at Waipahu High School, Quiocho struggled.  He abused drugs and alcohol and was overwhelmed with the deadlines of his classes.  Quiocho was supposed to graduate with the class of 2013, and was given a few options for his future: drop out, enter Youth Challenge or Job Corps, or recover his credits. He decided to stay in school an extra year to do credit recovery. Whenever it was either lunch or recess, he tried to go back to his classes to finish his work.
Though Quiocho often felt like giving up, his grandmother and sister motivated him to keep going.
Quiocho said, "As I kept on going, I finally felt the feeling of being able to walk and being the first one in my family to graduate.  The fact that I was the first in my family to graduate, I just felt the weight of that."
Quiocho is now a warehouse worker. During his free time, he goes to different communities across the island to help young people. He encourages them and helps them to stay out of trouble.
Quiocho has been helping youth throughout Waipahu, Kalihi, Palolo, Nanakuli, and beyond.
In order for Quiocho to connect with the youth, he joins them in activities such as playing basketball or working out.
When Quiocho hears about fights, he brings those who were fighting to a comfortable place where they can open up to him.
Whenever he hears about tragedies in the news, he makes the effort to go to the communities where they took place to provide support.
In schools, Quiocho may talk to counselors, teachers, or parents who are looking for solutions to help kids.
At the start of the school year, Quiocho organized a school supply drive at Pupuole Street Mini Park. Quiocho gathered donations of bags, folders, paper, pens and pencils.
He explained, "I want to give out things that I didn't have growing up.  I felt abandoned at times growing up. So with that in mind, it pushes me to give things to other people, things that I didn't have."
He has also organized events such as basketball tournaments to keep kids out of trouble.
Quiocho cites the late rapper and activist Nipsey Hussle as an inspiration: "I really like how he has love for his people. That same love he has for his community and his people is the same love that I have for my community and beyond."
Quiocho now advises everyone he meets, "Don't give up and keep on going. Make moments and cherish memories because tomorrow is never promised.  Do whatever it takes to make today count."