A day in the life of student medical assistants and pharmacy technicians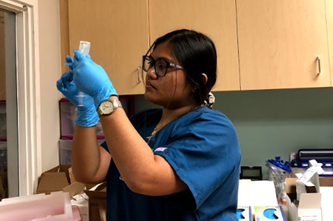 Waipahu High School's partnership with Hawaii Pacific Health provides students with hands-on training in the Medical Assistant Program. The school's partnership with Kapiolani Community College and CVS Pharmacies provides students with firsthand experience in pharmacology through the Pharmacy Technician Program. Participants in the programs share their reflections and a typical day in their lives below.
Kristine Abadilla, Medical Assistant Student
Today, I got to experience being on both ends of the needle. Nervousness, excitement, fear— I was feeling all of it even though this wasn't the first time I stuck a needle into someone. Just two weeks ago, I had drawn a vial of blood from my partner for our Clinical Laboratory course. This time, we'll be giving each other injections. I can vividly remember the feeling of my confidence draining out of my body with every step I took closer to the exam room. 
"Three shots. You will administer a subcutaneous injection on yourself, and two intramuscular injections on your partner. Prepare your injections and let's get started," my instructor told my partner and me. After successfully administering the three injections, I couldn't help but reminisce about the first day of being in the Medical Assistant program and see how much I have grown since then.
Being in Hawaii Pacific Health's Medical Assistant Program has been a journey with endless new experiences and opportunities. Through this program, I was able to take one step towards my dream of becoming a health professional. As a medical assistant student, I learned what it meant to provide the best, quality care for my patient's overall well-being. What I like about being a student medical assistant is that we are exposed to the administrative and clinical aspects of healthcare. We interact with patients, perform clinical duties, and handle paperwork, from documenting on the medical charts to communicating with insurance companies to reduce patient's medical bills. 
We have didactics 4 times a week: Monday, Wednesday, Friday, and Saturday. This is when our classes are more hands-on and interactive. So far, we had the opportunity to perform patient interviews, test our own urine samples, practice different types of bandaging techniques, irrigate the eyes and nose, draw blood, perform an electrocardiogram screening (EKG), and administer injections.
I have learned so much over the past 7 months in the program and my heart is full of nothing but gratitude and appreciation. And as cliché as it may sound, blood (literally), sweat, and tears are embedded into every effort I exert into this program.
Janelle Maglay, Pharmacy Technician Student
As I entered today's class, I wondered what we would be doing because the content of the work is always different.  However, I always enjoy attending class because I learn something new and I get to expand my learning on pharmacology. So far I've learned about laws and ethics, filling out Drug Enforcement Administration (DEA) forms, and how to read a medication label. 
Today, I did an activity with auxiliary labels and bingo cards. Auxiliary labels are added to prescription bottles to notify the patient taking that medication of the essential safety information regarding that medication. Types of auxiliary labels include dietary information, storage instruction, warning information, and other cautionary details.  Our activity consisted of identifying which auxiliary labels belong to which medication bottles from the Top 200 drugs.
The other activity we got involved bingo cards. To represent each day of the month, the bingo cards have 31 slots filled with a specific 3- day supply of medication. For this activity, we brought our own candy/chocolate which represented the medications. After filling each compartment, we had to fill out a form regarding the type of medication, dosage, description, and manufacture. From there, we sealed that form onto the compartments and I really liked this activity because it was a fun way to learn real-world pharmaceutical tasks. Tonight I need to study because every week, we have a test on 25 new drugs (brand, generic use, and controlled substances) from a list of the top 200 drugs. Just another day in the life of a Pharmacy Technician student. 
Loise Medina, Medical Assistant Program Student
Today is Saturday, March 7, 2020, another full day of Med Assist. All of us will go through our skills exam for midterms for the first half of the day, then we will drive to Pearlridge for a hands-on lecture for the second half of the day.
For each skill exam last quarter, I was always among the first 4 people to do the testing. I'll probably be among the last people this time. Last quarter was about interviewing patients about why they came to the clinic and taking their vital signs.
Today's test is on ear and eye irrigation. We're flushing out our patients' eyes or ears, depending on the scenario, with saline water, then applying medication. It's a challenge perform, but even more of a challenge to tolerate. It's not easy to keep your eyes open while water is being flushed into them. We know because we've tried it ourselves. It's an odd, uncomfortable feeling at first, but it gets better later on. How well will my patient handle it?
Our instructor, Ms. Mae, enters the room with a sheet in her hands listing the order of people to be tested from beginning to end. My friend Angela and I were called to go out of the conference room and wait outside the patients' rooms until our scenario sheets are handed to us. I prepped, entered the room, and I saw a pediatric patient sitting at my exam table. I had to irrigate my patient with 120 cc of saline water, when I remember my eyes barely surviving at 10 cc. It was not easy to get through for me or my patient, but we both did it. At 9 AM, I was finished. I had to wait for 3 hours before we drove off to the Pearlridge Straub location for the second part of our day.
There, tourniquets, butterfly needles, gauze, cotton pads met our eyes as went through the door. We saw the first batch of students practice drawing blood. At this point, we have gotten used to this sight as we've been doing it almost every week. Our lecturer told the class that whoever wants to draw blood can do so. Thank God I was blessed with adventurous, thrill-loving people in class. All of us bounced up with excitement and were up for the challenge. It's a refreshing feeling that something each of us used to be afraid of turned out to be a normal and exciting thing for each of us, something that we actually look forward to. Each vial we successfully draw is a symbol of a fulfilling experience, made with the ingredients of guidance, patience, precision, determination and teamwork.
I first thought that I would be lonely in Med Assist, considering that our class consists of people from 5 different schools in the Leeward cohort. Given the rigor of the class, I thought that it would be highly competitive. I was wrong. The rigor brought us closer together, instead of farther apart. We were able to empathize with each other's stress, pressure, frustration, relief, happiness and excitement. It may be hard at times, but we make sure that we lift each other up as much as we can. We assure each other with blood draws and injections that it's okay to "feel the sting" of the needles, so that we learn rather than worry about the patient. We encourage each other to practice procedures that are new to us. We make sure that we make each other feel that we are not alone. 
Saturdays in the Medical Assistant Program are opportunities for me to put in the work that I will need in the future, to take a step closer towards my dream profession in the medical field. Second, they are opportunities for me to put myself out there, along with many others, so that I know what dynamic I should be building to have a successful team. Lastly, they are opportunities that show that I made an awesome decision trying something new, rather than being taken down by the fear and anxiety of whether I can handle the work or not. It's a time when I am able to experience frustration, learning and of course, fulfillment. It's okay to be scared, but don't allow it to control you and the way you walk towards your goal. 
Left: Janelle Maglay displays resources allowing students to practice listing types of medications, dosages, and their descriptions.
Right: Kristine Abadilla practices giving Loise Medina an intramuscular injection.