WHS students express themselves through unique fashions
As students return to in-person learning, they take this opportunity to express their creativity through the art of fashion.
As they display their takes on various looks, students also share where they purchased their outfit pieces and any additional tips they have for their peers.
In today's society, there are many fashion styles that are present. There's a style inspired by the trends of the 90s or the more recent 2000s look.
There's also an academia trend present on campus, branching out into light academia and dark academia. Outfits of this style are based on the idea of learning, reading, and an overall academic vibe. This style is inspired by school uniforms. Light academia displays a more cheerful and carefree personality, while dark academia has hints of goth, and presents an overall more somber mood.
Streetwear is one of our generation's favorite styles. Most people like streetwear because of the comfort of baggy t-shirts and baggy pants. You could pair baggy clothes with matching sneakers and other accessories.
Emo is a darker style that started in the early 2000s and has recently become more popular. Emo can be styled in different ways and often features black graphic t-shirts with skinny jeans.
Jheanna Carlos, a sophomore from the Academy of Arts & Communication pictured above, describes her style as being "comfortable and confident." Carlos says of her boots, "The heels, some might think it's just like the height–I like walking in them; they just feel right." Black is the color that is most comfortable for her and also makes her feel confident. 
Through her outfits, she expresses how she is an artsy, creative person. Carlos states, "I'm a very artsy person, I like to draw, I like to paint, so I like to add a special color every now and then to my outfits." For the random graphic design t-shirts, I'm a big fantasy nerd–just showing off the interests a little bit." As you can tell, you can use fashion as a medium to express some interests of yours, as it could be more expressive than explaining it with words alone. 
Carlos frequents Jeans Warehouse, Papaya, and Amazon, as she says, "[Amazon] can get you what you can't find in person!"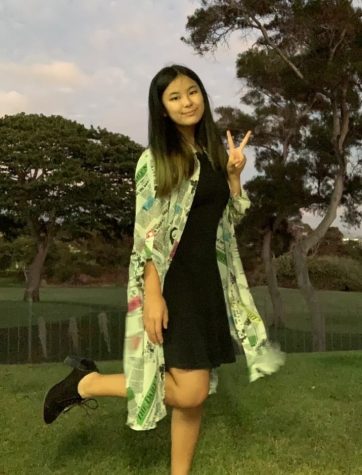 Dara Ann Kimura (above), a sophomore from the Academy of Professional & Public Services, likes to take adopt multiple clothing styles. "I have my completely other side to my style, where everything is rainbow and colorful, so there's really no in-between, I kind of go back and forth between those. You can have multiple senses of fashion, you can do a lot of different things," While many people tend to follow temporary trendy styles, Kimura encourages others to express themselves instead: "What's trendy is cool, but you kind of want people to appreciate you for who you are. You don't want to like always want to fit in."
Kimura enjoys shopping at many different stores, including Jeans Warehouse and TJ Maxx due to their affordable prices and the quality of their designs and materials.
Through one's style, others may see inner thoughts, feelings, and opinions that are not always expressed through words. This is how Kimura presents herself, as she says, "I present myself to be a really bubbly, happy and upbeat person. My fashion sense is kind of who I really am on the inside." 
As you can tell through the words of our fellow WHS students, fashion has no boundaries and is a medium to express anything you want, whether it's your favorite bands or what you're advocating for. Rather than connecting with the latest trends, you should be connecting with yourself through your style.